Burcot Grange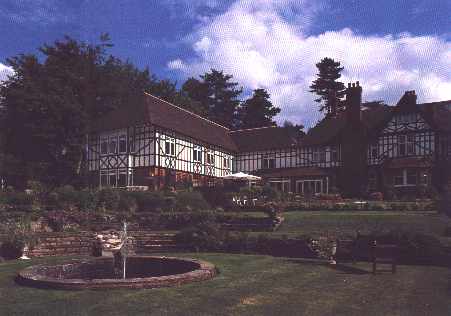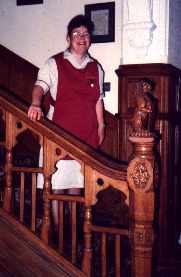 This is where I used to work, every Thursday night and every second Saturday and Sunday evening. Burcot Grange is a residential home for the elderly and as you can see the gardens are beautifully kept as well as the rest of the property.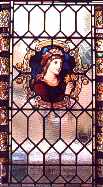 1890 the Victorian house was built for Henry Follett Osler from Birmingham. The architect was Jethro Cousins. The house has a number of beautiful stained glass windows and in the halls and rooms there are lots of fine oak panels. During the colder times of the year you can warm yourself by the fire in the lounge.
1913 Henry Follett died and his daughter Jessie inherited the house. After her death in 1927 the house was sold on auction to Mr F.W. Rushbroke and his wife. He was the founder of Halfords, today a big shop chain selling car- and bicycle accessories as well as bicycles.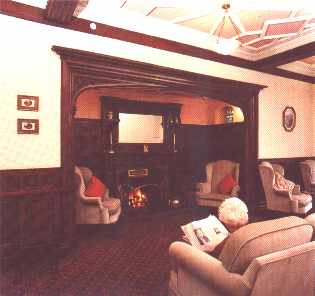 1937 the Rushbrookes donated the house to Birmingham and Midlandīs Eye Hospital and the house was operated as such until 1963 when it was taken over by the Dudley Road Hospital in Birmingham. It was used for elderly patients from Summerfield Hospital waiting for places in welfare homes.
1990 the Hospital was closed and the property was put up for sale. Mark and Karen Bales bought Burcot Grange and after refurbishing the house they opened their beautiful residential home for the elderly the 15th of February 1992. Thus the home celebrates their 10th Anniversary this year, 2002.
Today the home has 34 rooms and four independent flats. 3 of the rooms are used as "holiday rooms" for people who might need recouperating after an operation or need care while the family goes on holiday.
Several creative persons live and work in Burcot Grange. One of them was my "old" night-partner Jane Pearsall. She has now left Burcot Grange and works in a shop. Among other things she writes poems and she has given me permission to publish one of them here.
Another very creative person is one of our residents, Doctor G F Nuttall, who still at age 91 writes articles and have them published. Quite often we discuss words and their origins, and many times he has helped me find out the history behind words and expressions. Sometimes I ask him about a word, and the next time I come he has written down the explanations on a piece of paper for me. At times he also finds interesting things in his paper that he cuts out for me. Once in a while we also dicuss ancestry, he has a very interesting background.
On his 90th birthday a new book by him was published, Visible Saints, and you can read more about the book and himself on the Quinta Press website.
Wednesday the 18th of June 2003 was an interesting day for many of us girls working at Burcot Grange. 17 of us entered a team called Burcot Ladies in this years "Race for Life". Over 1600 ladies ran and walked at Cannon Hill Park in Birmingham to collect money for Cancer Research UK, in memory of family and dear friends who lost their fight against cancer.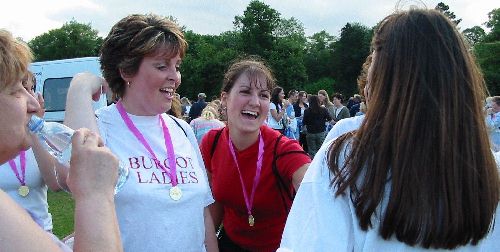 We were very thirsty and happy when we had crossed
the finishing line and had received our medals.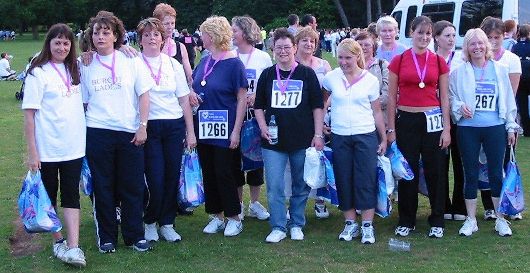 Our residents have their own internet station and at the moment I have the privilege to teach so inclined pensioners to use the computer and Internet. I am in awe of these persons, some of them around the age of 90, who wants to get to grips with this for them big new thing called computers and have the curiosity to want to explore the net and keep in touch with family and friends via E-mail.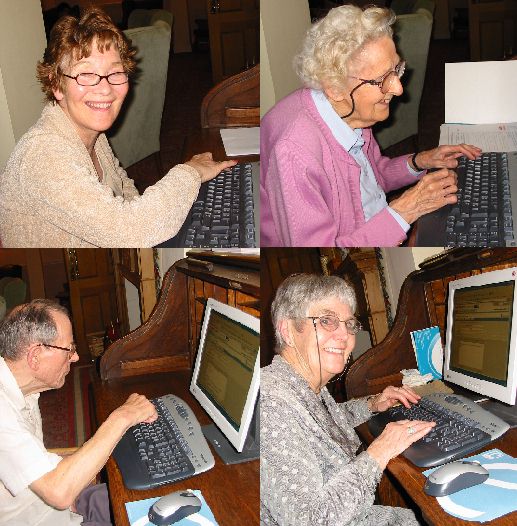 Above: Mrs Caney and Mrs Milligan
Below: Mr Harris and Miss Poole
Back to Eva's page